Trading FX by robot on an MT4 platform using MQL4 code
 This is my code.
For number of years
 I have been developing,

tinkering

 a

nd learning to code in MQL4, (a code based on C ++)
The results have been interesting but as yet, not reliable enough to trade live
I am confident enough to predict that on a long run it will double your money 6 times out of 10.
However as there is an element of martingale the stakes are high and it would require a minimum of $1-2k a run – this could mean that there maybe a run of losses, say 6-7 or 10 in a row that would wipe out ones account very quickly.
That said, and as said, I have (on back-testing and some live virtual) come up with some interesting results.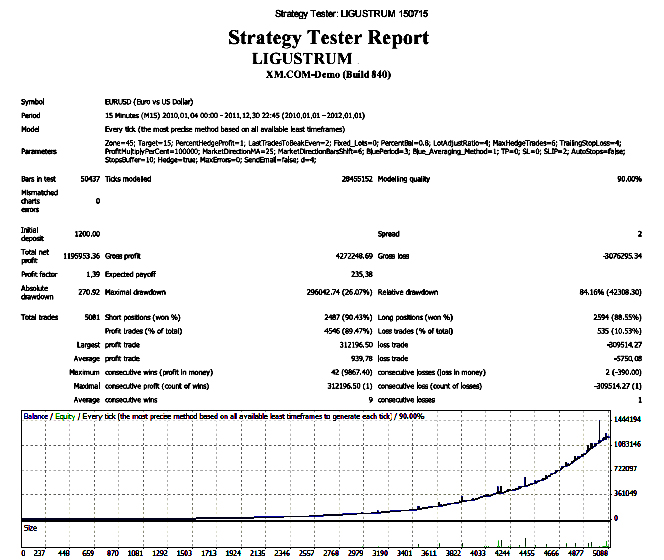 These results are not untypical. Two years and a starting deposit of £1,200 this code has made a profit – in theory – of £1,195,953. I Have checked all parameters and all seems correct 
This is a hedging code so  I called it 'Ligustrum', a sort of a parody. Principly, what happens is that a trade is opened via a quite basic MA cross – for example two moving averages, one fast and one slow, that when crossing opens either a long or a short trade. If the market continues in the 'correct' direction then at a certain point of profit the trade is closed and the cycle starts again. 
If, however, the market moves against the position another trade is opened in an opposite direction, the lot size weighted so as to take into account the two obverse positions so that at a certain point, if the market continues in the same direction both trades are closed at breakeven or a small profit.
If the market again reverses then a third trade is opened in the direction the market is heading. If again the market changes direction then yet another trade is opened…and so on until the lot sizes become too great and it either crashes or doubles, so until further developed this code is not for sale.
My incentive for this post, as I am more creative than mechanical, is that I may meet another person with developed mathematical skills who may see the potential in my code and would like to contact me
mail@CJS.One
A promotion.
I have tried this and the results are very interesting …
There is a numerical sequence called 'Fibonacci'.
This occurs frequently in nature and it can work on predicting stock and FX prices. The fibonacci sequence is basically the sum of two previous numbers in a sequence. 
There is a software package available that capitalises on that mathematical sequence – it is called  "Fibo Quantum" . It's a Fibonacci based indicator for MT4 (Not an EA/Robot) that works on ALL pairs and M15 D1 timeframes. "Fibo Quantum" comes with a step-by-step user guide with screenshots, special tips and trading rules. It will help you get the most of out this new indicator.
Every time there is a new trading opportunity, "Fibo Quantum" generates a unique set of levels.
Each set includes:
1) BUY: Entry level + Stoploss and 3 TakeProfit levels
2) SELL: Entry level + Stoploss and 3 TakeProfit levels
Whenever a new set of levels is generated or an Entry level is reached – "Fibo Quantum" will inform you via pop-up sound alert, email alert or a push notification sent to your mobile.
IMPORTANT: Levels NEVER repaint. If you get a new set of levels – you can be confident with them. The indicator WILL NOT change its mind and reposition the levels.
The legendary Fibonacci principle combined with our special unique algorithms enables "Fibo Quantum" to give you reliable and powerful price levels that you can use to make easy and profitable trades.
No repaint, powerful and reliable BUY/SELL levels, 3 types of signal alerts and built-in multiple trading styles will ensure that you make the most profit possible.
This is very much worth investigating. Of course, you get a money back guarantee so you have nothing to lose and potentially a lot to gain. Check this out yourself by clicking the image below :