Hi, most reliable way to contact me is by email. 
Mail@ChrisSouthwood.com, or WhatsApp +34 622 55 93 92
My postal address in Almerimar:
(Post is not delivered to boats)
Calle Darsena de la Bateau, 41
Almerimar,  04711
  Hola, la forma más confiable de contactarme es por correo electrónico.
Mail@ChrisSouthwood.com, o WhatsApp +34622 55 93 92
Mi dirección postal en Almerimar:
(El correo no se entrega a los barcos)
Calle Darsena de la Bateau, 41
Almerimar, 04711
Directions to yacht DriKe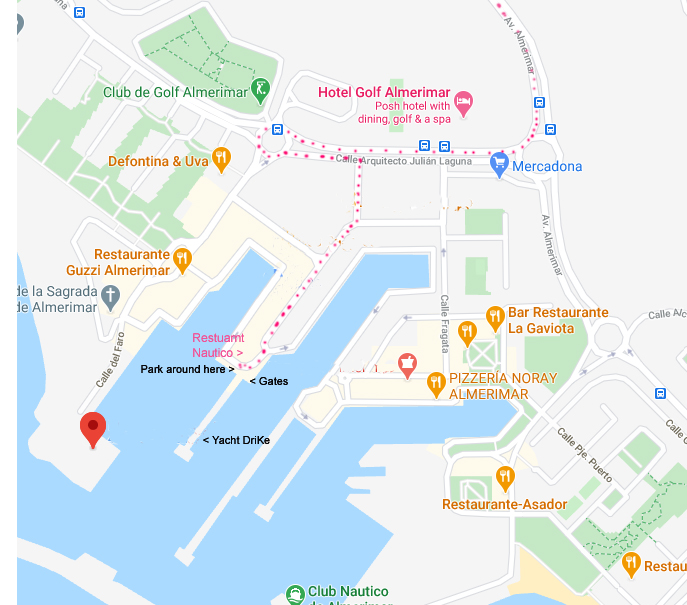 The one-way systems change rapidly – often too fast for google maps to catch up – that is if anyone tells them. So follow the high tech dots and these directions.
Leave the motorway for Almerimar. Drive down the hill until you come to the roundabout with a Mercadona supermarket. Turn right.
Follow the dots all the way around the next roundabout.
Turn right after a couple of hundred metres. Turn right at the bottom of the road. Continue until you see parked cars,  the marina and boats are ahead of you. Park your car.
Go through the big stainless steel gates at the head of jetty number one. They are usually open (slide the large section to the right).  If it is locked call me on your mobile.
Walk to the end of the jetty. Yacht DriKe is on berth 116 on your left.
Now for nerdy navigators…
GPS coordinates in decimal  (DD)
N36° 41′.770   W002° 47′.543 

GPS coordinates in degrees, minutes, seconds (DMS) 
N36° 41′.4185″   W002° 47′.3134″ 
Decimal Degrees to WGS84 protocol

36.696167     -2.792383
Los sistemas unidireccionales cambian rápidamente, a menudo demasiado rápido para que Google Maps los alcance, es decir, si alguien les dice. Así que siga los puntos de alta tecnología y estas instrucciones.

Salga de la autovía hacia Almerimar. Bajar la colina hasta llegar a la rotonda con un supermercado Mercadona. Girar a la derecha.
Siga los puntos alrededor de la siguiente rotonda.
Gire a la derecha después de un par de cientos de metros. Gire a la derecha al final de la calle. Continúe hasta que vea autos estacionados, el puerto deportivo y los barcos están delante de usted. Estaciona tu auto.
Atraviesa las grandes puertas de acero inoxidable que hay en la cabecera del embarcadero número uno. Por lo general, están abiertos (deslice la sección grande hacia la derecha). Si está bloqueado llámame a tu móvil.
Camina hasta el final del embarcadero. El yate DriKe está en el muelle 116 a su izquierda.
Ahora para los navegantes nerd …
Coordenadas GPS en decimal (DD)
N36 ° 41′.770 W002 ° 47′.543
Coordenadas GPS en grados, minutos, segundos (DMS)
N36 ° 41′.4185 "W002 ° 47′.3134"
Grados decimales al protocolo WGS84
36.696167 -2.792383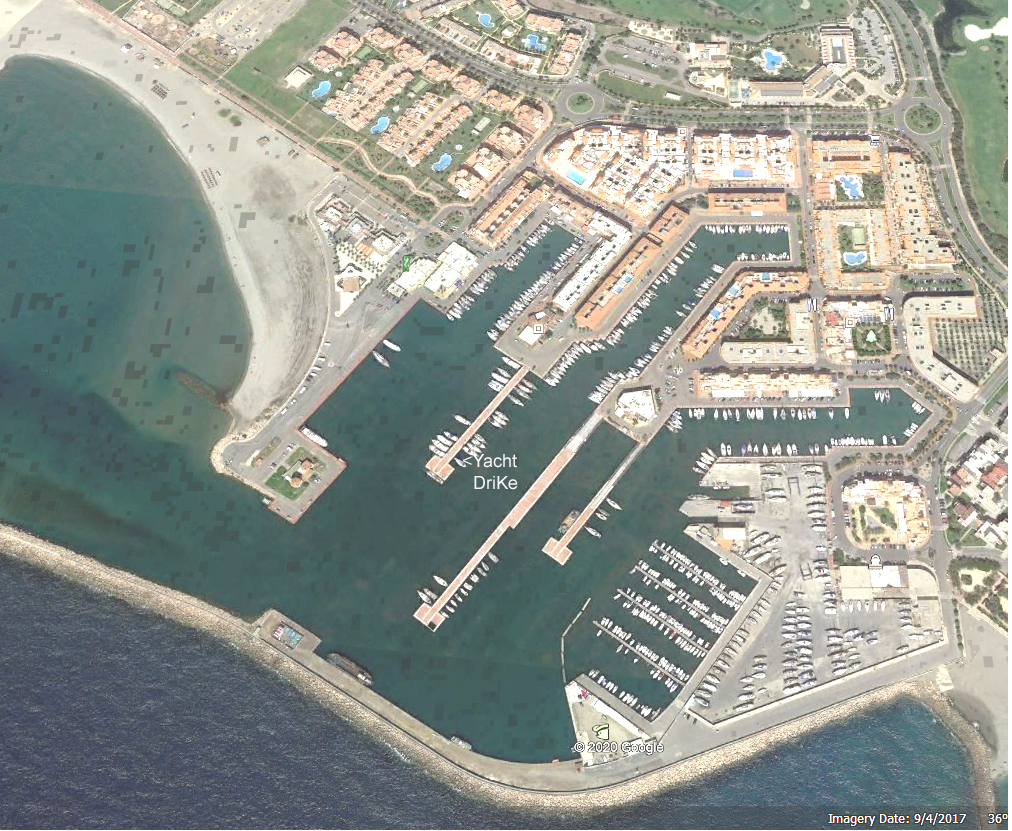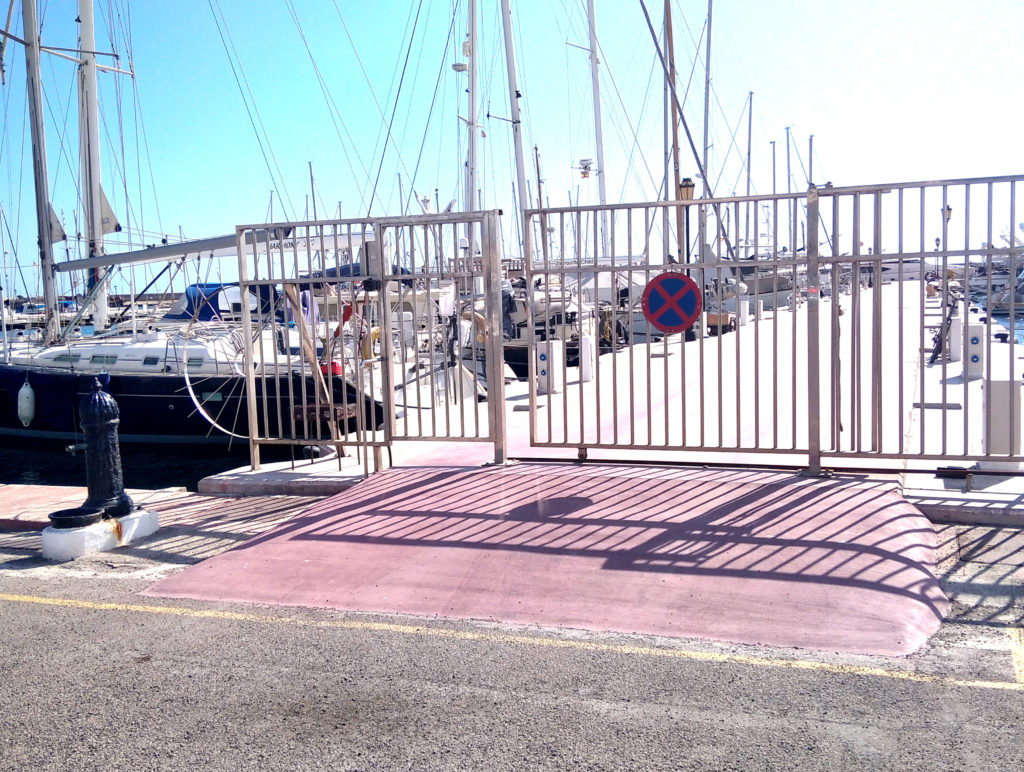 These are the gates – often the main gate slides. If the small gate is locked phone or message me
Estas son las puertas, a menudo las correderas de la puerta principal. Si la puerta pequeña está bloqueada, llámeme o envíeme un mensaje