Batavier is a Carena 43 Dutch Steel Ketch
Batavier Dutch Steel Ketch
For sale at a bargain price of €25,000.
A fantastic opportunity for a restoration project
She is lying ashore in Crotone, Italy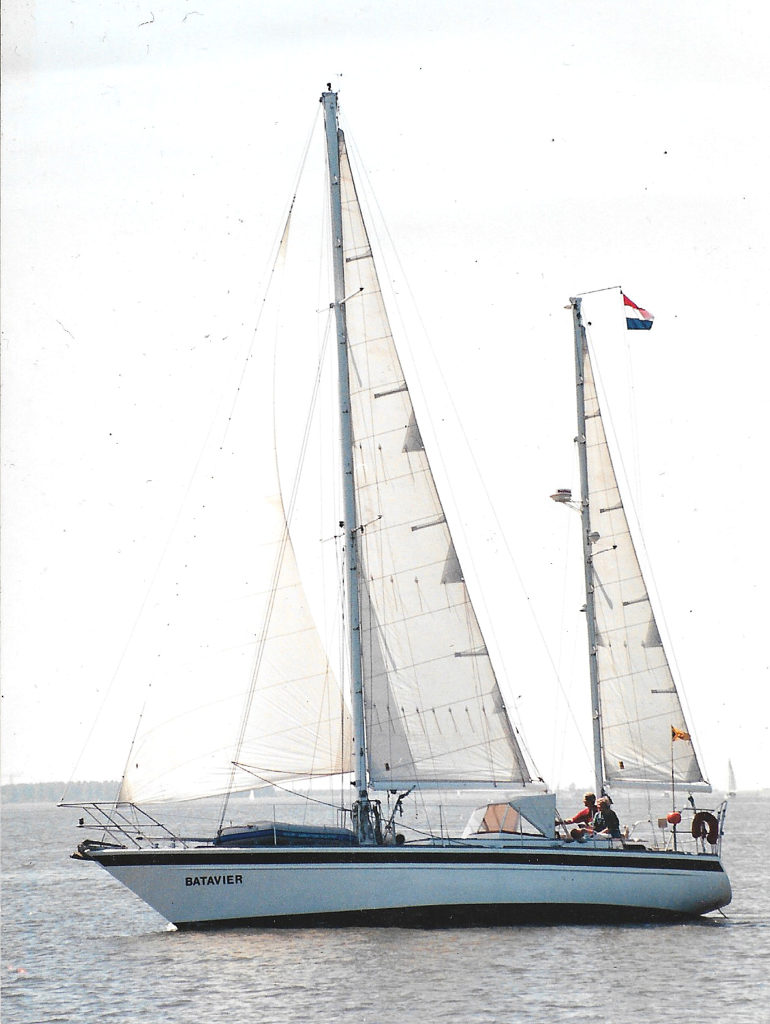 She is fast and sea-worthy
€25,000
VAT Paid.
A  lot of boat for your money but please understand this is a restoration project and sold as seen.
All the equipment, engine, electronics work well. When restored she could be worth four times the asking price. 
She is 12.80m LOA, Beam is 4.05m and draft 1.95m. Her displacement is 16000. 
Built in 1983 at the de Vries Jachtbouw boatyard in  Oudenbosch the Netherlands.
Designer: Lemstra. Build number  713
She has teak decks on steel  (this does need some attention)
keel: semi-long with skeg hung rudder
The steering system  is Whitlock – the best
Accommodation is a classic teak interior with blue upholstery.
She has a spacious saloon; owners cabin with a double bed in aft section; double pilot bed; guest cabin V-bed forward
Four cabins with six berths +2 in the saloon
Headroom approx: 1.95
Toilet: 1x manual RM 96
Four burner stove. Top loading fridge
Freshwater 400 litres. Waste tank: 40 litres. Fueltank  250 litres
Mercedes 83 hp diesel
Batteries: 4 x 95 Ah + 2 x 95 Ah start battery.
The battery charger is by Sterling
She has solar panels : 250 W (24v) + 2x 100W (12v)
Mainsail: 30 m2 Dracon. Mizzen: 12 m2 Dracon.  Furling Genoa: 45 m2 Dracon. Gennaker: 105 m2
Winches : 2 x 45st + 4x 24
Autopilot: Raymarine St 60. Gps: Raymarine. VHF: Icom. Navtex : Nasa. Radar: Raymarine
Anchor: Bruce 25 kg plus Fortress 15 kgAnchor winch: electric 10mm 60 m of chain.  She has a life  raft (not checked) and life jackets  – 2 inflatable, 4 fixed
She has a Quicksilver dinghy, 2.80m,  plus a  Suzuki 2.0 hp outboard and two rescue buoys.
Her General Condition
Batavier has been unused and stored ashore for the past three years.
My friend, the owner, tells me the sails are 8 out of ten in condition.
The decks are teak on steel. A bad idea. (I also own a steel boat). The steel has rusted under the teak. I recommend removing all the teak – about a days work using a jackhammer. Cut the teak as pads under the fitting to save removing and seal the end-grain with epoxy and smooth.
Sand the steel deck. Degrease and apply three coats of epoxy and then non-slip deck paint. About a weeks work and a few hundred euros.
There are some sections of the hull that will need attention. The owner as acquired some steel plates of the correct grade (these are on the boat)  so be prepared to have some welding done.
The rigging is fine and everything works well.
She is in fact sea-worthy and can be launched to take her a yard of your choice to have the work done.
Viewing
She is ashore at Crotone, a boatyard in Italy. Due to delays with travel due to CV19 the owner will now be avalable in September to show the boat.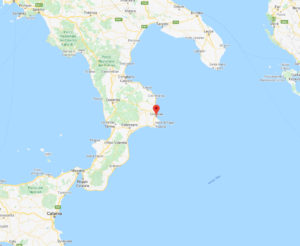 Crotone, Southern Italy
In short, this is a fabulous yacht, albeit needing attention, hence at a bargain price – and we are willing to listen to offers.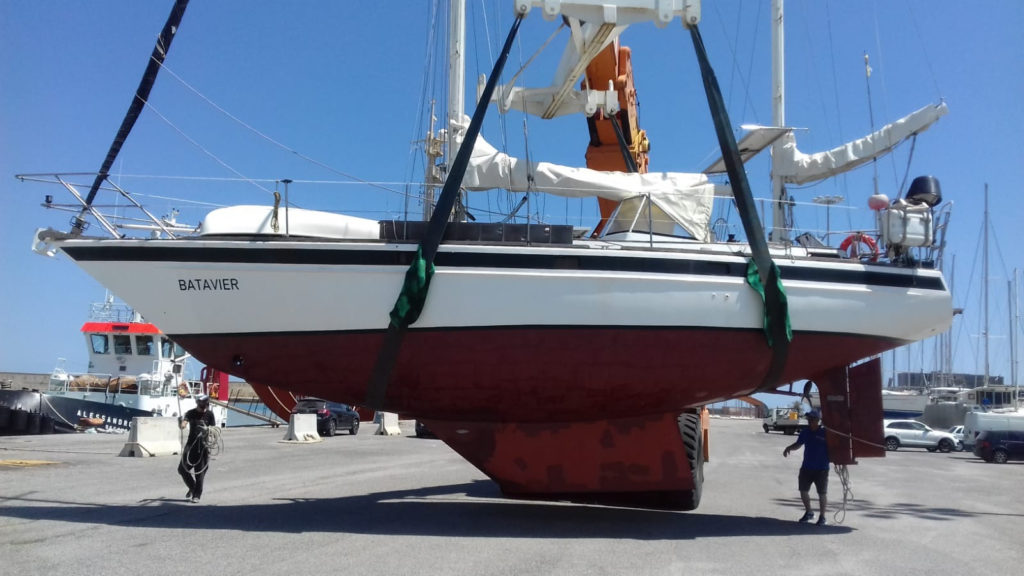 Some recent photos & work completed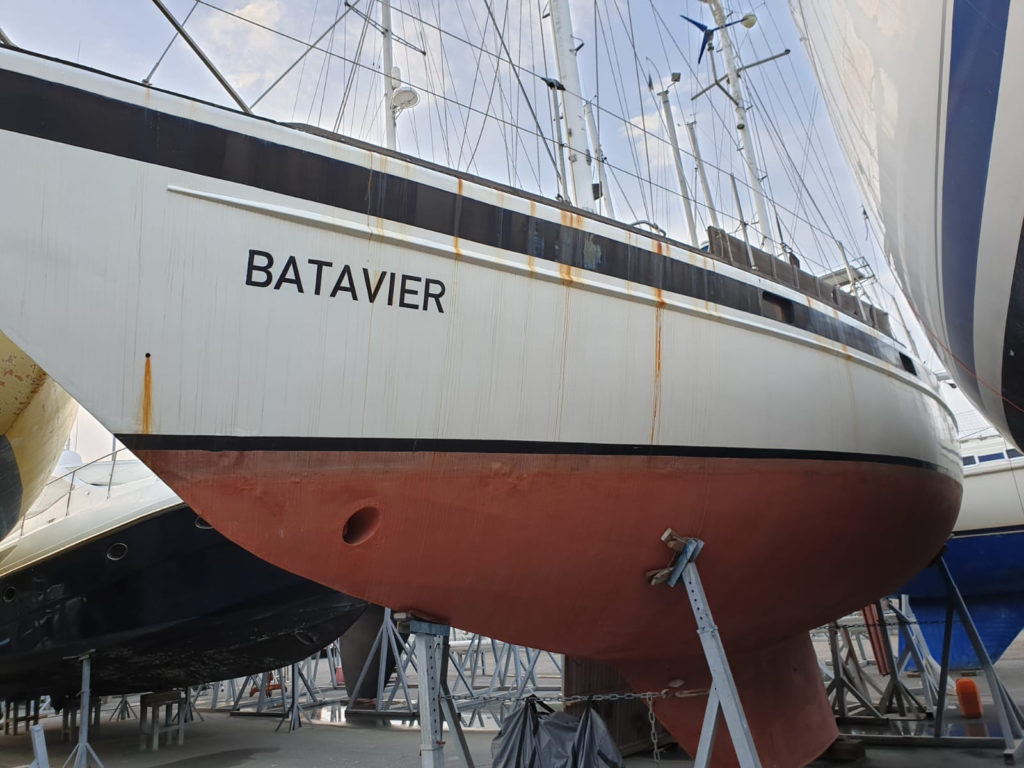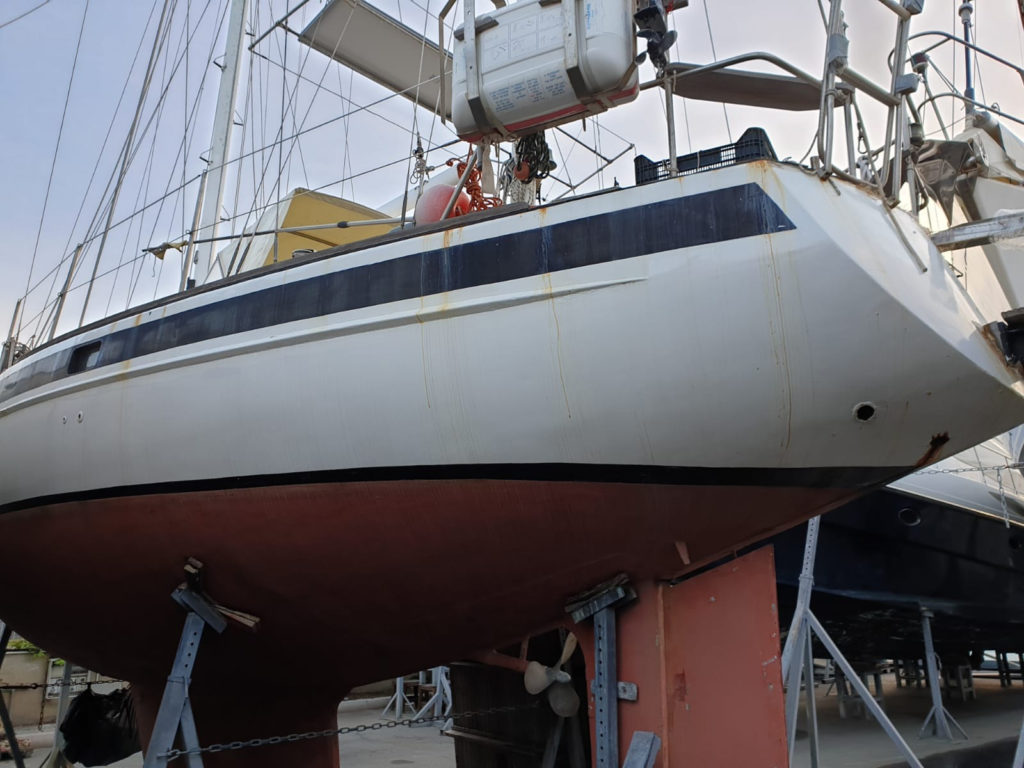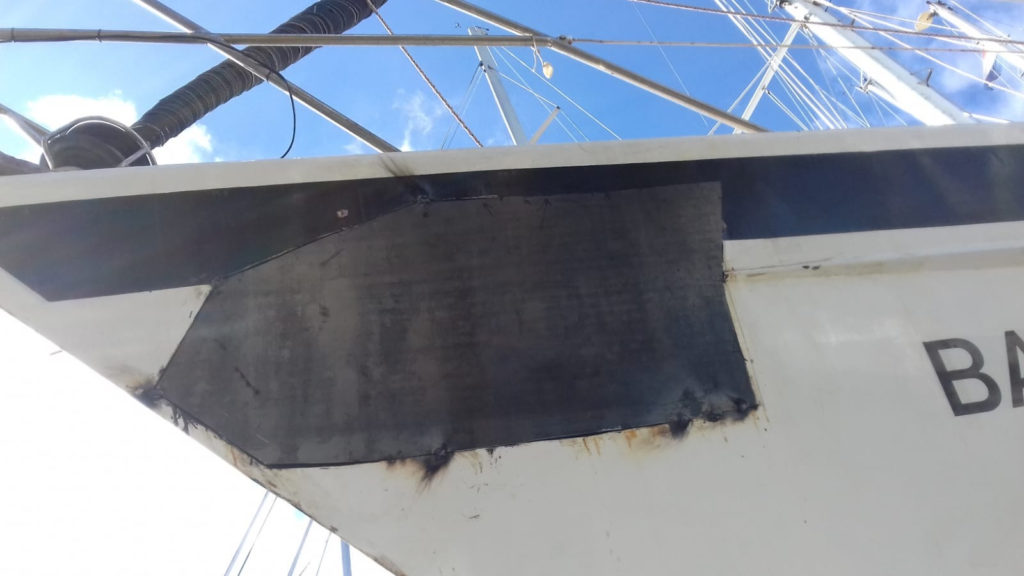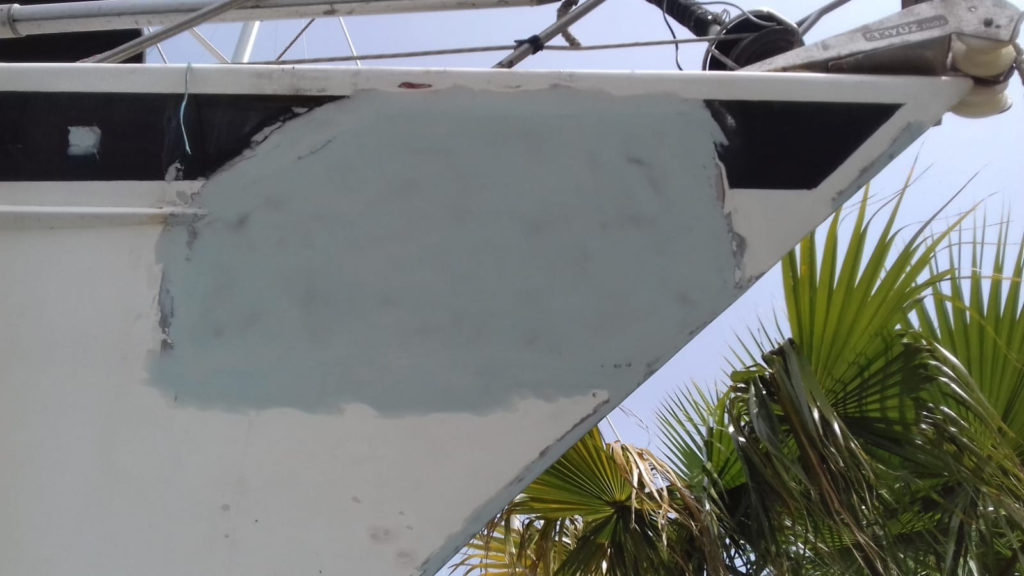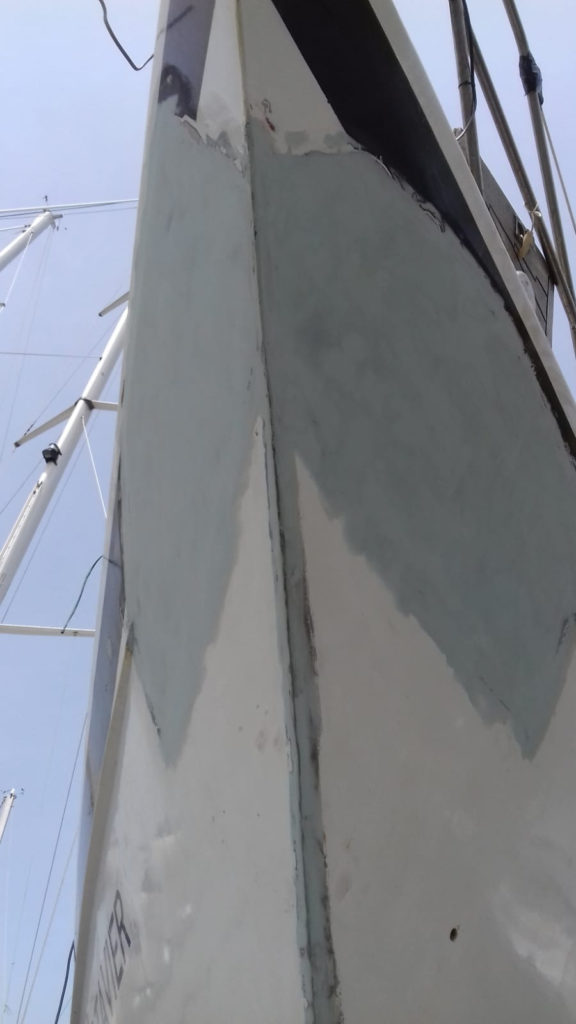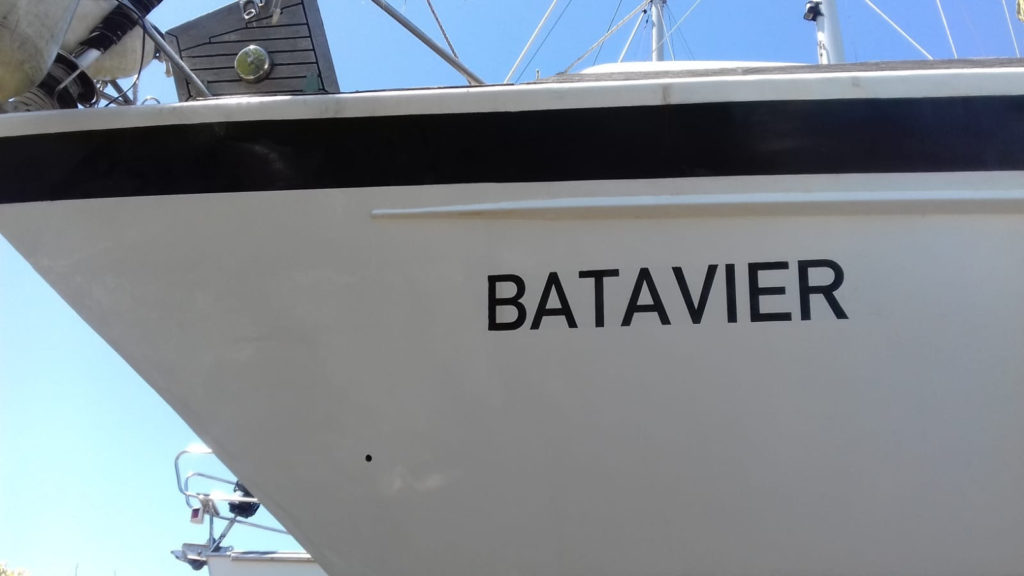 The interior is very good. All equipment works. 
Once the deck is removed as above and treated with epoxy and non-slip paint, plus checking other sections of the hull, she is completely ready for the sea.